Bourn Beautiful Naturals
Regular price
Sale price
$20.00 USD
Unit price
per
Sale
Sold out
A hydrating cleanser for silky smooth curls
Perfect for the quick curl refresh
sulphate-free for a gentler cleansing experience
hydrolysed silk to fortify as you cleanse 
slippery elm to target tangles from the get-go
favoured for quick curly refreshes 
a light fresh scent for an uplifting curl care experience
formulated to make cleansing easier even for super coily hair types  
For the best results, follow up with the Avocado Smoothie Conditioner for quick washes, or the Coconut Cream Deep Conditioning Mask for particularly dehydrated hair, or compromised hair. This shampoo comes in a 250ml bottle. Use within 12 months of opening.
Slippery Elm - melts through tangles
Hydrolysed Silk - strengthens hair strands and enhances curls
Hibiscus flower - conditions and improves elasticity
View full details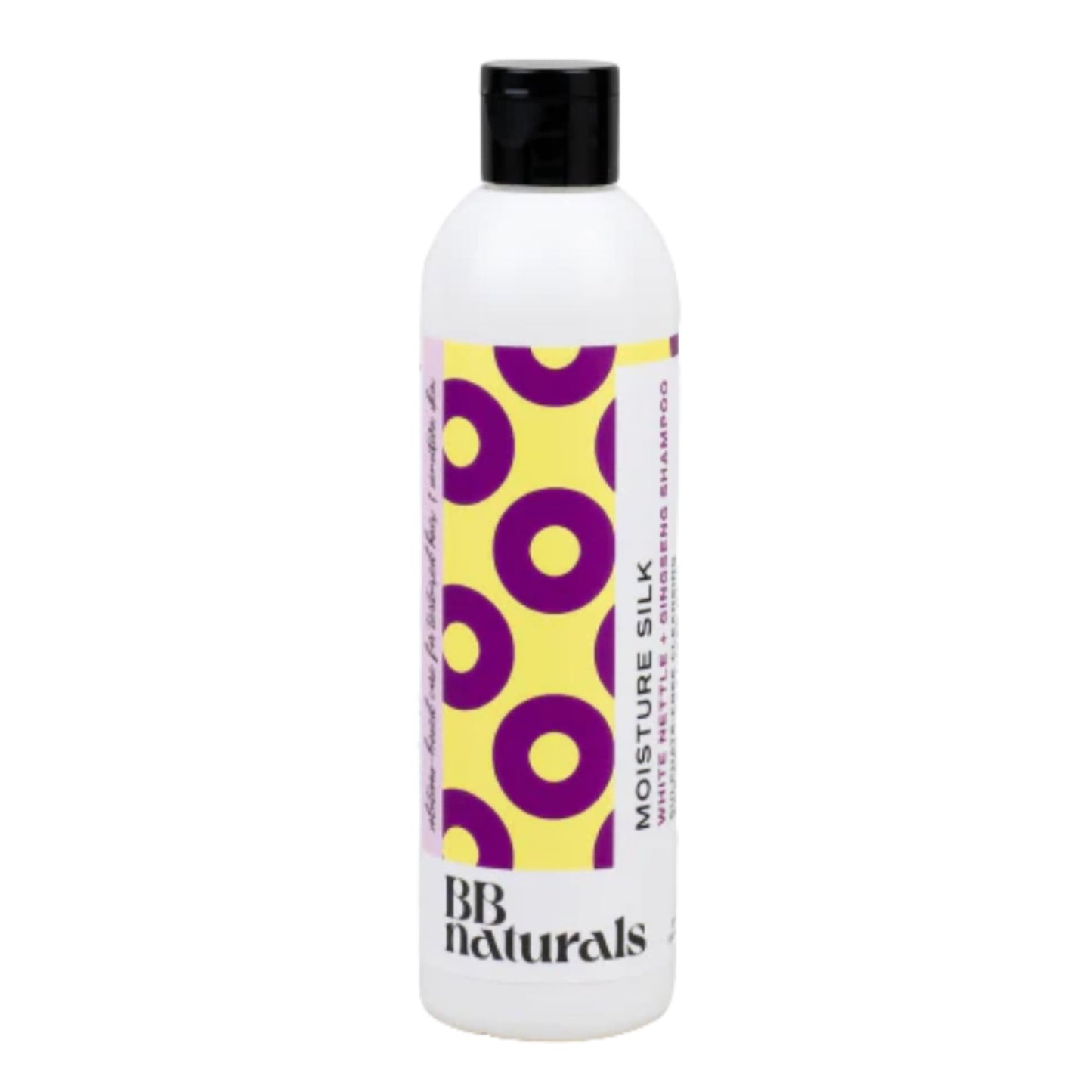 Product Description
Details

This Moisture Silk Sulfate-Free Shampoo revives your curls with a subtle and silky lather that gently lifts dirt and build-up. Whether you are looking for a cleanser that won't leave your curls feeling dry or an effective alternative to co-washing, this is the shampoo for you. 
Directions

Lather in hands before applying to soaking wet hair. Massage scalp with fingertips and smooth through lengths of hair to remove build-up. Rinse well.
Ingredients

De-ionised water, cocoamidopropyl betaine, sodium cocoyl isethionate, decyl glucoside, glyceryl oleate, vegetable glycerine, cetrimonium chloride, polyquaternium-7, glycol distearate, caprylic/capric triglyceride, thickener, fragrance, allantoin, panthenol (vitamin B5), slippery elm, hydrolysed silk, dehydroacetic acid & benzyl alcohol (eco-safe preservative), hibiscus flower extract, citric acid
Nice product
Bought this for the kids, as they go swimming a lot. Does the job and smells lovely.
Lovely product
So, I don't think this product is the best for my hair. However, it is a really lovely product and so I'm not going to mark it down just because it doesn't suit me. The packaging is very pretty. It feels lovely and luxurious. The shampoo is quite thick. Smells lovely. It made my hair very soft but perhaps a little too soft for what I needed as I also got some frizz and I didn't get the longevity from my wash & go that I normally would from other products. That said if your issue is coarse, straw-like hair, I would hazard a guess that this would be good for you :)
Perfect for coarse, dry, frizzy hair!
OK, so the packaging is nasty! I mean it looks cheap, the design looks like it was done by a 5 year old with crayons and there are typos on the label! I didn't hold out much hope for this product and delayed opening it in favour of the Flora & Curl I'd purchased at the same time. When I opened the bottle, the lack of expectation didn't diminish as the product was thin and runny. HOWEVER (!) my curly friends, if you have dry, coarse, coloured and/or frizzy hair like mine then you're just going to have to look past all of this because when I used this shampoo I was astounded! Not only did the product make my curls super soft and silky but it also gave definition that I simply haven't had from any other shampoo. I've tried lots of different brands, and different combinations including the 2 big names in curl care. Seemingly, this tops them all. I combined it with my regular conditioner, masque, curl cream and gel and honestly I couldn't believe the difference in the results. My wash lasted a week with a bit of a refresh mid-week (water, a tiny dot more gel and prayer hands only!), where it usually only lasts 3 days. Enough said! Give it a go. I'll be ordering the other products in the range to try them soon too! Thank you Bourn Beautiful and Odyssey Box! x
"Excellent small business. I was so impressed with the packaging and the level of care. Genuine company where I will definitely be buying from again."
Turn wash day into wash hour.
Cleanse
This lays the foundation for any good hairstyle! It's the most important part of caring for your hair.
You want to cleanse your hair and scalp weekly using a shampoo such as the Color Awakening Hairbath.
Condition
Now your hair is clean, you want to follow up with a conditioner like this one.
You're going to use it with plenty of water to detangle and remove shed hair – first with your fingers, them with a detangling brush.
Shop now
Style
Now it's time to style how you are most comfortable. For wash and gos, you will want a botanical gel, for twist outs you will want a cream or a foam.
Once you have styled, you can dry your hair with a diffuser or a hood dryer.
Shop now